In this example, we assume that only one competitor (Joe Hoggs) wants to assist to the open. This competitor wants to assist to the clinics and also the tournament despite the teams are composed by three participants.
The steps to do are the following:
Insert the number of participants. Due to is only one person, only a team can be filled up. Joe also wants to assist to the clinic, but there is no need to indicate in the form (all competitors also can assist to the clinic). Therefore, the form will be filled up as follows: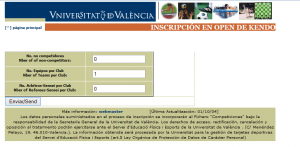 Next step will be to insert all personal data of the participants. Then, the next window must be filled up similar to: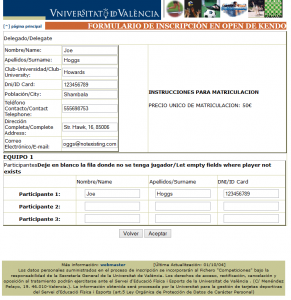 As the team is not valid, the organization will try to fix this issue later in the event.
In the next window you can see the total amount of the registration. Check that all values are correct.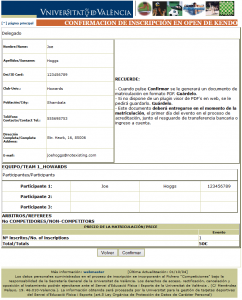 Then a PDF document will be created with all the information. Please save it.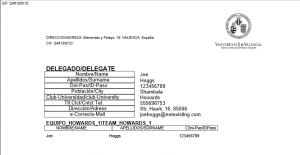 The last step is to pay the registration. For this, make a bank transfer to the next account.
IBAN: ES39 2038 9651 6160 0016 3511
BIC: CAHMESMMXXX
Owner: UNIVERSITAT DE VALÈNCIA. SERVEI D'EDUCACIÓ FÌSICA I ESPORT.
Address: C/ MENENDEZ Y PELAYO, 19
And send the transfer receipt to the e-mail servei.educacio.fisica@uv.es or by fax to the number +34 963983244.