Category Archives:
XI Open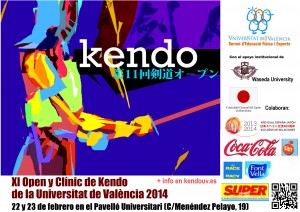 This is the official billboard.
Por la mañana, en el Aula de Cinema del centro La Nau se proyectará la película "Ame Agaru", para dar paso a un foro-debate en el que se invitará a intercambiar ideas con nuestros invitados recién llegados de Japón (Takayuki Yano, Takeaki Takeshita y Susumu Miyake).También estará presente el Vicerrector de Cultura e Igualdad Antonio Ariño, el Director Servei d'Educació Fisica i Esports José Campos así como el Coordinador O & C Valero Blasco.
Al acabar, se hará una pequeña exhibición de kendo en la que os animamos a asistir si alguna vez habéis tenido curiosidad por este deporte o por la cultura japonesa en general.
The Servei d'Educació Física i Esports de la Universitat de València, as part of its commitment to support college athletics, organizes for the tenth time the Open and Clinic Universitat de València, having been transmitted this event to the Judo and Associated Sports Spanish Real Federation and to the European Kendo Federation.
This event will be held on 22nd and 23rd February in the UV Sports Facility (Menéndez Pelayo Street, 19), and will count as collaborator the Consul General of Japan in Barcelona. This event is also recommended by the Annual Culture Agenda of the Japan Consulate in Spain.
Within the framework for a student exchange between Waseda University and Valencia University, the clinic will be one more year in charge of Yano-sensei (8th dan kyoshi) and kendo professor in Waseda University. He will be accompanied by Takeshita-sensei (7th dan), Miyake-sensei (7th dan) and Davis-sensei (7th dan, international referee and member of the British Kendo Association).
Moreover, we will be honored to have with us 5 members from the male section of Waseda Kendo Team (champions in Kanto prefecture tournament) and 4 members from the female section, third-placed in Kanto prefecture.